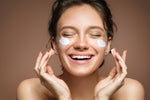 Here at House of Grō, we believe that the natural way is the best way. In selling our cruelty free anti-aging products, we're committed to making an effort to lower our impact on the biosphere, as all of us brainstorm about how to live better and preserve the health of the planet. It's important! And business can benefit from good ecology, too, as people are finding out. We want to be on the vanguard of this, with our customers, to anticipate better new ways of living that honor the earth. 
Green Packaging
From Amazon to more specialized e-commerce operations, packaging is an issue.
We've been proactive about investigating how to source recycled material for packaging. We looked at this from a variety of angles to try to figure out the best ecological options. We think that this should be the responsibility of every e-commerce shipper, but unfortunately there's not always a priority put on ecology in business. But you can trust that we are involved and engaged in this issue! That's part of our commitment to you as you buy. 
Cruelty Free and Organic Products
Made with the natural power of chaga mushroom and USDA organic hemp, our topical anti-aging formulations carry these certified guarantees in order to show our commitment to a natural process.
In fact, we think that the symbol of the chaga mushroom itself (not to mention the hemp plant) is a good example of this commitment, too. That had occurred to us as we started to put this business together and we think that there's a good synergy there. 
Here, in other words, you're not dealing with chemicals made in the lab – you're utilizing natural biological plants that grow unimpeded and uninhibited in our ecosystem. It's fascinating to read about this stuff, and you learn a lot about human history that you may never have learned in history class!
That's a little bit about our commitment to ecology. We also dedicate ourselves to inclusivity with products that are for everyone – all ages, all skin types, and all kinds of customers.
As for the wellness information on the site, take time to read over the FAQ in order to better understand how Hemp impacts holistic health. In some cases, you can and should ask your medical professional about CBD and topicals. That said, doctors are finding that CBD has some good applications to the body's endocannabinoid system, and that supports the idea that people are using CBD at home.
That's a little bit about our products. So happy shopping!