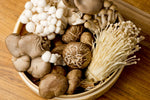 Chaga Mushroom Soup … And More
Hungry for something healthy?
How about a bowl of mushroom soup?
Listen, mushrooms are a very interesting type of protein and have been a part of human cuisine and homeopathic remedies for centuries. That's clear. And they are still of interest to lots of people!
We use a particular mushroom, the chaga mushroom, in our topicals and skin products. But it's very versatile - it has many uses worldwide and throughout history. We're attuned to that reality, and that's part of how we have formulated some of the best skin care products around. But there are other ways to use these mushrooms, too.
A Bowl Of Good
One traditional Way to use mushrooms is to make them into a soup. Some call this a "golden mushroom" concoction, especially when adding turmeric and other colorful spices. Try a little paprika or cayenne pepper, too!
Other ingredients often include vegetables – carrots, onions, and the superfood garlic, which has health-boosting properties.
Some recipes also call for herbs like thyme or rosemary, along with broth or some other ingredient to provide texture.
Natural Fungus
What you get is the nutrition of the mushroom, which has been heralded as part of the forager's menu across the ages.
The taste and texture of these dishes tend to be great as well, but part of the selling point is the nutrition and the therapeutic effects!
Mushrooms In Skin Products
On the website, you can read much more about how we use the chaga mushroom to its full effect. We combine this with the power of CBD oil at a time when CBD is getting much more popular. People are figuring out the health benefits. They're looking beyond historical suspicion of marijuana and hemp products. What they're finding is that these substances can be great for holistic health value.
Their health value really can't be ignored. Scientists are seeing how these items work with the body to produce excellent results in many different situations. That includes the rejuvenating nature of these products in our formulations that work well on the skin.
Read through the blog and get more of an idea of how these products work, and you'll see that House of Gro has a dedicated customer base that uses these products routinely!
We're also used to being ambassadors for the mushroom and CBD ingredients, not just on the blog, not just on the website, but also in public events and wherever we happen to be! 
We're excited about the power of these natural ingredients and their purity at a time when lots of products come with potentially harmful contaminants or "fillers." Try House of Gro's skin regimen and benefit from something natural and unique.