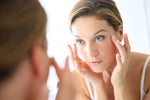 Three Essential Oils In Our Unique Anti-Aging Products
The items in our natural anti-aging products combine to form a powerful moisturizing and rejuvenating solution for your skin. These products are formulated according to some very specific biological science, and the power of natural remedies through human societies and their evolution. You can see a lot more about this on our web site – we're excited about it, and we want to tell everybody! But this page will also explain more about how this wonderful stuff is made.
Here are some of the ingredients in our House of Grō that are useful for topical treatment of the skin.
Tea Tree Oil
If you have even a passing interest in homeopathic remedies, chances are you've heard of this one. Tea tree oil is famous for its astringent and antiseptic qualities. You'll find it in soaps and shampoos and other kinds of topical (such as bath bombs etc.) and if it's applied at the right concentration, you'll feel it, too. Tea tree oil can produce a burning or tingling effect on the skin in certain dosages. It has long been known as a potential remedy for things like acne and eczema, and as a general antibacterial. People love its natural cleansing feeling, which is why it's included in so many natural soaps, and shampoos, and other cosmetic products.
Rose Geranium Oil
This beautiful flower oil is known to help with anti-aging cosmetic regimens. The beauty of this natural compound combines with our effective core ingredients, CBD and Chaga mushrooms, for a health affect that's partly aromatherapy and partially based on the other natural properties of this oil. We were interested in the historic uses of this oil as a cleanser, and its fragrance, too.
Coconut Oil
One of the reasons we include this oil is its effectiveness as a moisturizer. By itself, coconut oil has been known to really help with skin conditions. But along with our other core ingredients, it really packs a powerful punch. You may have already seen someone using this stuff as part of a beauty routine, but now you get it along with a few other unique ingredients for a holistic skin therapy that works.
Sandalwood
Here you can kind of go back to some of the properties of the tea tree oil that we mentioned above. Sandalwood has some similar uses and similar properties as you can see in our description on the website. Take a look – and try House of Grō! You will not be disappointed.