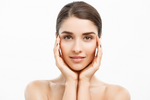 Effective Ways to Brighten Your Eyes Naturally
Maintaining healthy eyes can be problematic, especially if you don't know what routines you should follow. You may have dark under-eye circles, dry eyes, puffy eyes, tired-looking eyes, and other issues that you're unable to fix.
What can you do to make your eyes brighten and sparkle? The products you're using might not be enough to address your problem. Fortunately, there are techniques that you can apply to rejuvenate the look of your eyes. Read along to discover key steps that you can follow to improve your eyes.
Applying a few drops of rose water may help to improve the condition of your eyes. Rosewater is a popular remedy that is known to reduce or soothe eye redness, swelling, irritation, and inflammation. It may also lighten your under-eye dark circles. 
Cucumber Juice
Cucumbers have an anti-inflammatory effect and could be a great source that you can use to maintain the health of your eyes. Cucumbers contain a rich variety of minerals and vitamins which help to rejuvenate tired eyes. Applying cucumbers to your eyes may help to control puffiness, dark circles, eye wrinkles, and under-eye bags.
Quality Sleep
If you're not getting enough sleep, your eyes will show signs of fatigue and sleep deprivation. You need adequate sleep to prevent a variety of eye problems. Try to sleep for 7 hours or more to improve the quality of your sleep. 
Sleeping with your head elevated is another technique that you must consider to avoid waking up with puffy eyes or under-eye dark circles. 
Eye Detox Brightening Oil
Applying an eye detox brightening oil may help to minimize certain types of crow's feet, dark circles caused by inflammation, and other conditions that you want to treat on your face. This is the ideal natural product that may help you to get good results.
Apply the Right Products to Improve Your Eyes
One of your main beauty goals is to engage in the best routines to maintain the health and beauty of your eyes. As you get older, you will need to use effective products and techniques that may counteract the eye issues you have. By following a daily routine, you can regain the sparkle and beauty of your eyes.
Would you like to try a new eye detox product that may help to brighten the tissues around your eyes? Our Eye Detox Brightening Oil is a product that you can incorporate into your beauty routine to address your under-eye issues. 
Explore our website to learn more about using a natural product that is formulated to revive certain areas of your face.